Mole Hill is a heritage housing community in the heart of the West End. It sits in the block framed by Thurlow, Pendrell, Bute, and Comox Streets, two blocks north of Davie Street and one block west of Burrard.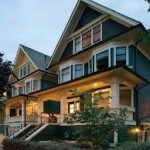 There are 170 rental units available at Mole Hill. The units include both market and subsidy suites, in sizes from bachelor to 3 bedrooms. For information on applying for housing at Mole Hill, see "How to Become a Tenant". You may also drop into our office at 1169 Pendrell Street (rear). 
For updates and recent news about Mole Hill Community Housing Society, follow us on Twitter or like us on Facebook.