Phase I of Mole Hill construction started in 1999 with completion in 2002. 70 units were completed in Phase I, and many long-term Mole Hill tenants came back to their newly modernized suites.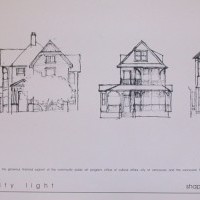 Phase II completed the remaining 100 suites by 2003.
Maintaining and restoring the heritage features of the houses was a big priority in the Mole Hill project. Many of Vancouver's "heritage" buildings are in fact heritage only in the façade, with entirely new construction providing the structure of the building. Architects at Hotson Bakker, with Architect Sean Mcewen, worked at restoring the heritage features both inside and out, while performing necessary code upgrades. Necessities like railings were done with black tubing to satisfy City requirements without compromising the overall heritage look of the homes. Space available on the lots was organized in such a way as to create outdoor areas for tenants to congregate in shared yard-space.
The greenways and gardens also were the products of intensive consideration in community planning, by the Architectural team, the MHCHS Board, and Landscaping Architects Durante Kreuk Ltd. The laneway was modeled after the Dutch concept of "Woonerf": a street which gives precedents to pedestrians in legality and in landscaping. Mole Hill provides a limited amount of parking; the Thurlow Street end of the lane is blocked to incoming traffic; and the plantings, benches, community gardens, and artwork are all designed to give a sense of pedestrian space, not car-space.
Construction Team
Architect Team  Hotson Bakker / S.R. McEwen, Associated Architects
Development Consultant Terra Housing Consultants Ltd.
Landscape Durante Kreuk Ltd. Landscape Architects
Interiors Hotson Bakker / S.R. Mcewen, Associated Architects
Contractor Kindred Construction Ltd.
Awards
The development partners of Mole Hill have won many awards for their participation in the development and success of the project.
City of Vancouver Heritage Award – 1996 and 2004;
Heritage Canada Foundation & Heritage Society of BC Award – 2004;
Canadian Construction Association, Environmental Achievement Award – 2004 (Kindred Construction);
Vancouver Regional Construction Association Award of Excellence – 2004 (Kindred Construction);
Canadian Society of Landscape Architects Award – 2005 (Durante Kureuk);
Royal Architect Institute of Canada (RAIC) National Urban Design Award, Community Improvement Projects – 2006 (Hotson Bakker and Sean McEwen)
Canada Mortgage and Housing Corporation Award for Best Practices in Affordable Housing – 2006
Architect Institute of BC, Lt. Governor of BC, Special Jury Award – 2007 (Hotson Bakker, Sean McEwen, Sandra Korpan)
Smart Growth Project of the Year in BC – 2007